TORONTO'S COUNTERTOP PURVEYORS
Stone Masters is the premier purveyors of natural stone surfaces in North America. We invite you to visit our showroom when you are in the Greater Toronto Area – or you can browse our website here to shop our inventory. We offer custom work cut from GRANITE, QUARTZ, MARBLE to name a few and if you're unsure of which surface might work best for your project, our professional customer service staff will be happy discuss some options with you and offer suggestions and advice.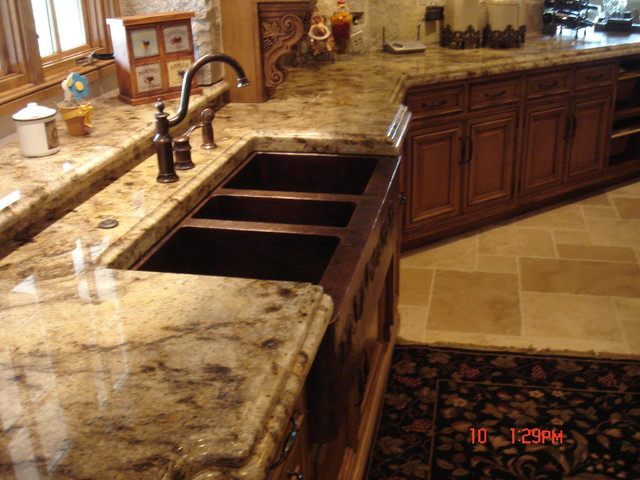 COMMITMENT TO QUALITY
We at Stone Masters like to think our kitchen countertops are ideal for tying a room together and they can take a dull kitchen and make it fabulous with only a few slabs of premium cut granite, marble or quartz. Our countertops are professionally manufactured from a varietyof materials that are primarily sourced from the Italian countryside and other parts of THE WORLD for a classical and clean feel.
We have tiled mosaics in glass and stone with beautifully ornate images.  Take your pick from our huge inventory of size, colours and patterns.  These artistic renderings look great in foyers, floors or included in backsplashes.
Sinks, vanities, consoles, flooring, countertops...the list goes on and on. We have stone surfaces for anything you need and offer installation for local Toronto projects. Our vanity packages that come with a countertop of your choosing are some of the most popular deals we offer.
There are over fifty different tile options in Travertine, Marble and Granite that we at Stone Masters currently have for you to choose from here on our website and if the number of choices overwhelms you, just give us a call and a member of our courteous staff will discuss your project and offer some suggestions that can help you narrow it down.
Why Choose Stone Masters?

Well, aside from the products we offer, our commitment to customer service and our user friendly website that makes purchases a snap,
We also happen to adore stone.  We believe that collecting these treasures hidden in the Earth's crust and polishing them to a beautiful shine is truly art.  Mosaics have been around for thousands of years and it is no coincidence that we offer so many choices when it comes to the style.  It is simply because with stone you can feel the age of surface; you can walk on it, run your hand across it, you can feel the cool texture and really get a sense of where it came from.
The colours of stone cannot be mixed; they are completely unique and harken back to days of ancient antiquity.  Should you find yourself as big a fan of stone as we are here at Stone Masters.  Please give us a call or visit our show room to talk shop any time, we'd love to hear from you!
Stone Masters Countertops
Need a new countertop for a country kitchen? Or for a sleek, modern bathroom? Choosing the right countertop material for your kitchen and/or bathroom doesn't have to be a difficult endeavor. Stone Masters simplifies the process by helping Toronto homeowners and businesses choose the right material for their needs.
A Wide Range of Products
Perfect kitchen costits of many elements, and each of these elements is very important: kitchen cabinets, countertops, backsplash, accessories and even flooring. But the countertop is the focal point of any kitchen. It's the first thing guests notice whenever you invite them over for dinner. We offer natural stone products in a variety of styles and finishes. You can expect the highest quality countertops made with exceptional craftsmanship. Whether you're interested in granite, marble, limestone mosaics, slate, and any other type of stone countertop, we offer it all. We manufacture most of the products we offer in our facilities in Toronto and Europe. Our team of experts inspects the materials before we ship an order. The most durable stone product available right now is quartz, and we offer more than six brand names in every colour and shade imaginable. Options include Silestone, Hanstone, Samsung, and LG.
Choosing the Right Countertop
Here are some popular choices for countertop material:
Quartz
Since quartz is an engineered product, it's available in a wider range of patterns and colours than natural stone. Crafted with quartz chips and resin, quartz kitchen countertops in Toronto is a good compromise between solid surfacing and natural stone. The durability of quartz countertops makes them excellent investments.
Although durable, quartz is also fairly flexible, making it easier to work with during the installation process than other countertops. It's also non-porous and does not require sealing. If you don't want to deal with maintenance, then quartz can be a great option.
Granite
Each and every piece of granite is unique. Its mottling and host of patterns and colours found in nature make it a beautiful, natural product. It's also resistant to extreme temperatures. You can place hot pots and pans on a granite countertop and it will be fine. This is the ideal choice of material if you are going for a warm, natural look in your kitchen.
Marble
There are many design capabilities with marble. It's softer to work with, making it a very customizable material. Marble is often considered to be a "classic" choice – especially if you want a white countertop in your kitchen or bathroom. It's naturally cool and heat-resistant, although not as much as granite.
If you have a large kitchen, you may be able to get away with more than one material for the countertops. If it suits the overall design scheme, it's okay to do a bit of mixing and matching. Look through our catalog to see all of the colours and styles available.
Why Choose Us?
Stone Masters have a commitment to quality. We offer quality products at reasonable prices. In addition to that, we also offer unsurpassed customer service. Feel free to call us, email us, or submit the contact form. You are also welcome to visit our showroom and warehouse. Check out our visualizer tools to see what kitchens look like with various countertop colours and styles in different settings.
Additional Articles
Stone is an underappreciated yet powerful feature to have in your home. Whether it's in a kitchen, bathroom, feature wall or fireplace, stone can add both beauty and value to your property. And there's no better place to find high-quality stone products than Stonemasters.
Today, granite is available in as many as 100 different colours, many of which are previously unseen. While muted tones are a timeless choice, much can be achieved by playing around with colourful granite in other areas of the home.
Today, we look at 5 lesser known granite colours which can be termed exotic by all means.
While newer less expensive choices have mushroomed around it, Granite's popularity remains unfazed. However, in an attempt to confuse buyers, a lot of myths have been perpetrated, mainly by manufacturers of other countertop materials.
The granite countertop and the backsplash will be the focal point of your Toronto kitchen design. Get it right and you will achieve bragging rights in the neighbourhood. Get it wrong and it will be a criminal waste of time, effort and a significant amount of money.
At a time when engineered stones like Quartz are being touted as a worthy successor to the Granite craze, it silently continues to outsell any other material used in countertops in Toronto and other parts of Canada.
Granite countertops are considered to be an indicator of a kitchen's worth. They last for years and give your buyers a hassle free countertop material. So consider the above mentioned factors and you will be able to sell your Toronto home for a good price.
The obsession with Granite countertops for homeowners in Toronto was never limited to the Kitchen.
Thanks to the exceptional durability and resistance to heat and imperviousness to water, Granite countertops have innately found their way into other areas of the home like fireplace surrounds and most importantly, the bathroom.
One of the reasons behind the popularity of granite countertops in Toronto is that it is one of the toughest stones in the world.
It is extremely resilient to heat, does not get scratched easily and doesn't get stained either. Irrespective of what you spill on it, you can take a microfiber cloth and wipe it clean within seconds.
Tiles are an inexpensive choice as compared to Granite slab countertops. But do they offer the same benefits as slabs do? Moreover, if you can replicate the look of a granite slab at a reduced cost, wouldn't it be a better choice?
Rather than getting hung-up on choosing the best of the two, choose what works for you. If you would like to use granite in your kitchen, do it by all means. Thousands of homes in Toronto still use granite. It's a matter of personal taste and preferences.
However, if you are planning a remodel to improve the quality of the living space and especially, if you have no plans to sell the house in the near future, then every decision that you make has to be a measured one. After all, you won't be remodelling the home every few years.
Remodelling the kitchen can be an exciting journey for the first timer. There's so much to choose from. Appliances, cabinets, tiles and of course countertops. Like most homes in Toronto, if you have decided to go with the countertop material that is used in almost 75% of new Kitchens, then let us help you take the guess work out of it.
Granite countertops are preferred for outdoor use due to their durability, aesthetic appeal and ease of maintenance. Do not let false propaganda and internet myths fool you into believing that you need to do something special to care for your outdoor granite table top or your countertop.
With all the contradictory information, myths and horror stories floating around regarding the cleaning of granite countertops, you'd imagine that you'd have to be a savant to be able to maintain the sheen of the countertop in your Toronto home.
Investing in granite countertops for your kitchen is a wise decision. It enhances the value of your Toronto home in the eyes of a potential buyer, gives you as much as 100% ROI on the investment and most importantly, provides you with years of stress free kitchen maintenance.
The main reason why Granite sits pretty on most of the kitchen counters, not just in Toronto, but in most parts of Canada and America, is because it is an extremely durable and resilient natural stone that requires very little maintenance.
On HGTV's popular TV Show called 'House Hunters', couples have openly declared their love towards granite countertops. A few have gone to the extent of refusing to buy homes that do not have them. Wow!
Cost is not always an indicator of quality. This is especially true, when it comes to natural stones like Granite. So, if you have decided to install a granite countertop in your home in Toronto, how do you ensure that you get the quality that you desire?
You might have nailed down the basics. A sink, a refrigerator, patio furniture, a grill or cooking space and last but not the least, a countertop to help you serve the meals without withering under harsh weather.
An outdated kitchen is a dampener. Apart from the fact that it significantly impacts the resale value of your Toronto home, it also reduces productivity. Everyone likes to work and move around in a smartly designed kitchen that is functional and attractive.
I've used StoneMasters for a few projects at my home including a kitchen and bathroom. I have to say I couldn't be more pleased. Dan provided exceptional service with good prices and I found him willing to go the extra mile to make us happy. I will definitely use them again when the need arises.
Blair Melton from Toronto, Ontario
We needed all kitchen and bath counter tops for a new build. Stonemasters was recommended by our interior designer. Dan provided excellent service and advice right from day one and the pricing was excellent. The project was delivered on time and expertly installed. The installations look beautiful thanks to the quality of stone supplied. We would definitely work with Stonnemasters on our next project!
Bob and Carol K. from Bond Head, Ontario
I can't say enough about the excellent service I received from Dan at Stonemasters. He was helpful and so patient during my many weeks of hemming and hawing and changing my mind 15 times! When I finally decided what I wanted, which was a very specific and quite hard to find piece of granite, Dan called around to his suppliers and found the ideal stone. The result is stunning! The counters are beautiful. But maybe the most important quality that I found in Dan was that I knew from when I first met him that he was straightforward, honest, trustworthy. His prices are great. He was clear and up front about what everything was going to cost. So there were no surprises. I highly recommend Dan and Stonemasters!
Pam Seatle / City TV
Hello Dan, Thanks for your email and follow up. I was going to email you to say thank you for taking such good care of Linda. She is very pleased! I will definitely contact you for future projects – your pricing and service is fantastic.
All the best, Wendy